How does this activity passes muster under the current Electoral Act.
How the entities donating to Get-Up can avoid being declared "3rd Party Campaigners" beggars belief. Can someone offer an explanation ?
This whole process is subverting democracy.

Blatant foreign interference in Australian elections.
Oh, of course, no problem, it's not a confected allegation against Trump and the mad left are doing it.

Australia with insignificant emissions in world context is being targeted with economy destructive policies- one should ask why!?

How can it be people can be manipulated by others based on half truths and absolute rubbish.
Here is a perfect example of no evidence but "Whatever it takes" to get access
to tax payer funds.
If you follow the money the real story emerges.
GetUp's $500,000 donation to change poll climate
BRAD NORINGTON 12:00AM DECEMBER 21, 2018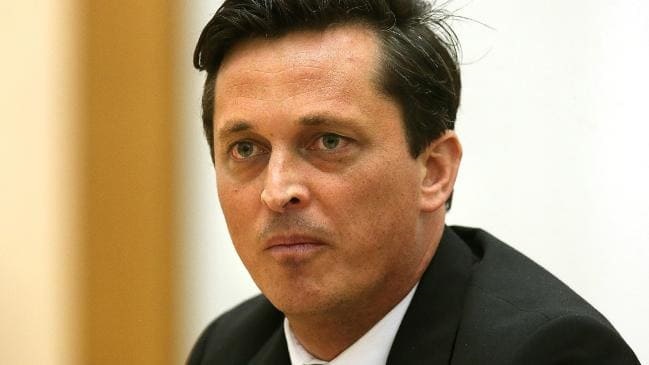 GetUp national director Paul Oosting has confirmed that funds from the $495,000 Sunrise Project donation would be used in the lead-up to the federal election.
The left-leaning GetUp activist group has ­received a $500,000 donation from an Australian-based charity with foreign funding links that will be used to help make climate change a hot button issue in next year's federal election.
Less than a fortnight before new federal laws take ­effect on January 1 to ban political donations from foreign interests, GetUp has confirmed receiving $495,000 from the Sunrise ­Project.
Sunrise, which campaigns for 100 per cent renewable energy, refused to disclose the source of the donation yesterday, but ­insisted all funds it redirected from other donors were "from Aus­tralian sources".
The group is known to receive international funding, following documents aired by WikiLeaks, from the US-based Sandler and Tides foundations that were ­directed at the anti-Adani coalmine campaign.
GetUp national director Paul Oosting confirmed yesterday that funds from the $495,000 Sunrise Project donation would be used in the lead-up to the federal election expected in May.
GetUp plans to campaign against the Morrison government, and hand out how-to-vote cards for Labor or the Greens.
Mr Oosting said "all funds" ­received from the Sunrise Project came from Australian sources, but declined to say where it had accessed the $495,000 donation.
Sunrise's executive director, former Greenpeace activist John Hepburn, also insisted all funds were from "Australian sources" but declined to name them.
Mr Hepburn said several ­donors to the Sunrise Project — which redirects money from ­others to activist groups of its choice — had been "vociferously" ­attacked by the coal lobby in the past. "Many donors are understandably reluctant to be subject to that, and we support this right to privacy," he said.
The Minerals Council of Australia claims in a submission to parliament's joint standing committee on electoral matters that the Sunrise Project typically avoids disclosing the source of its grants or donations. Confirmation of the $495,000 donation came as GetUp notified the Australian Securities & Investments Commission that it had appointed an extra board member, taking its number of "full members" from eight to nine. New board member Karen Iles, a human rights lawyer, is a former Construction Forestry Mining and Energy Union official, ALP member and campaigner for the party's Labor for Refugees.
Of GetUp's nine board members, five have a strong Labor pedigree, fuelling claims of critics that it is an ALP "front".
West Australian Liberal MP Ben Morton yesterday challenged the timing of the ­donation from the Sunrise Project so close to the starting date for new laws banning foreign ­donations when the group was known to receive offshore money. "The Sunrise Project is a self-proclaimed 're-granting' organisation," he said. "It is a clearing house of political donations from others, and a known receipt of foreign political donations."
Mr Hepburn confirmed funds from his group were likely to be used by GetUp for the federal election, when GetUp plans a vigorous campaign to unseat conservative Coalition MPs such as Tony Abbott and Peter Dutton.
The Sunrise chief dismissed claims his group was a "clearing house" for activist groups, while saying it did "re-grant" a portion of its funding to other community organisations in line with its own charitable purpose.
https://www.theaustralian.com.au/national-affairs/climate/getups-500000-donation-to-change-poll-climate/news-story/214ebea45cb57f20f9adcc9d603c6a78