Won't the plum ugly Extremist Greeny lunatics be coughing up fur balls and eating sag grapes and sucking lemons ?

What a blow for the Global Warming HOAX. Tremendous boost for the Libs and their sustainable cheap energy policy.

Now what about the clean coal generator up in Nth Qld ?  Hear BlackDay has curled up in disgust!!!
Adani to begin construction on scaled-back Carmichael mine
Charis Chang news.com.au NOVEMBER 29, 20183:49PM
The controversial mine in Queensland will move ahead but it will be scaled back after the project failed to find financing.VIDEO: What is going on with Adani?
Adani says it will self-fund the construction of its controversial Carmichael mine and that work will begin soon.
The mining giant said a scaled-down mine and rail project would be 100 per cent financed through the Adani's Group's resources.
Adani Mining chief executive officer Lucas Dow made the announcement at the Bowen Basin Mining Club luncheon in Mackay, Queensland today.
It follows recent changes to simplify construction and reduce the initial capital requirements for the project.
The mine was originally expected to be a $16.5 billion project but will now only cost $2 billion, according to the Townsville Bulletin.
"Our work in recent months has culminated in Adani Group's approval of the revised project plan that de-risks the initial stage of the Carmichael mine and rail project by adopting a narrow gauge rail solution combined with a reduced ramp up volume for the mine," Mr Dow said.
"This means we've minimised our execution risk and initial capital outlay. The sharpening of the mine plan has kept operating costs to a minimum and ensures the project remains within the first quartile of the global cost curve."
According to the Bulletin, Mr Dow said work on the mine would start first, after management plans were approved by state and federal governments. Work on the rail line was expected to begin early in the New Year. The first coal experts would be produced in 2021.
Once spruiked as Australia's biggest coal mine, which would produce 60 million tonnes of coal per year. The scaled-back version will now produce 27.5 million tonnes at its peak.
Initially production will only be 10 to 15 million tonnes but it will ramp up to 27.5 within 10 years.
A rail line to service the mine will also be scaled back.
Earlier this year Adani scrapped plans for a 388km standard gauge rail line and will instead build a 200km line that will connect to Aurizon's existing Goonyella and Newlands rail network. This will more than halve the cost from $2.5 billion to $1 billion.
Mr Dow said the project would deliver 1500 direct jobs during the initial ramp-up and construction phase of the mine and rail projects.
Townsville and Rockhampton were still expected to be the primary source markets for jobs but workers would also be hired from other areas.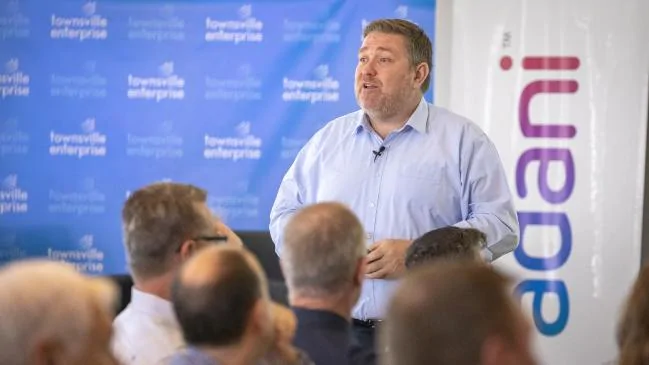 Adani Australia CEO Lucas Dow speaks at a business breakfast co-hosted by Townsville EnterpriseSource:Supplied
The company had to find its own funding for the project after banks overseas and in Australia distanced themselves from coal export projects in the area, or introduced policies that prohibited financing Adani's mine.
Early this year rail operator Aurizon walked away from plans to build a rail line linked to the mine, withdrawing its application for a $5 billion government-funded loan from the Northern Australia Infrastructure Facility (NAIF).
The decision comes after Adani was previously denied a $1 billion NAIF loan to build its own rail line, after the Queensland Government vetoed it ahead of the state election.
The Carmichael mine was previously delayed by court challenges brought by environmental groups as well as the need to change the Native Title Act to legitimise an Indigenous Land Use Agreement it had signed.
Today's announcement is not the first time Adani has announced it was going to start construction.
Adani Australia chief executive Jeyakumar Janakaraj previously said physical construction of the mine was scheduled to start in weeks in October 2017.
This year it was announced that pre-construction work on the project was expected to begin in the September quarter.
https://www.news.com.au/finance/business/mining/adani-to-begin-construction-on-scaledback-carmichael-mine/news-story/9282ec26009dec03cbd7bc31e03b432a#.x4gth