The key event will be Libs winning Wentworth.
After that victory ScoMo will come out with guns blazing.
Already NewsPoll is showing the trend back to the Libs as Union Puppet Scungy Shorty steadily slides beneath the surface of Labor's vast Cesspool of Corruption.
Labor dips in latest Newspoll as Scott Morrison widens lead over Bill Shorten
Paul Karp Mon 24 Sep 2018 06.33 AEST Last modified on Mon 24 Sep 2018 10.53 AEST
Liberal party boosts its primary vote by 3%, but still sits behind opposition 46% to 54% in two-party-preferred terms.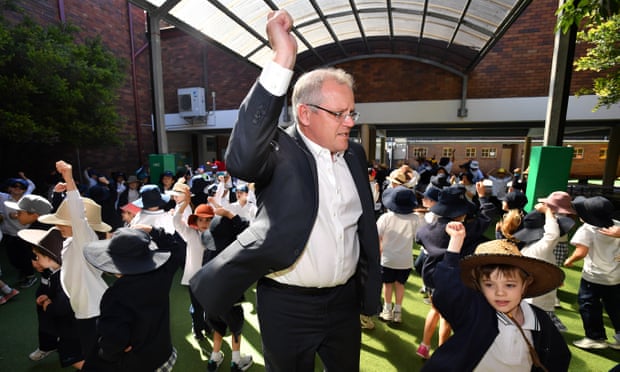 Scott Morrison visits a Catholic primary school in Sydney on 21 September. The latest Newspoll shows Morrison leads Bill
Shorten as preferred prime minister by 45% to 32%. Photograph: Joel Carrett/EPA
The Coalition has increased its two-party-preferred vote by 2% in the latest Newspoll, a first step for Scott Morrison to pare back Labor's election-winning lead in the wake of the Liberal leadership spill.

One month after Morrison emerged the winner in a poisonous three-way leadership contest, the Newspoll, published on Monday, found the Liberal party has boosted its primary vote by 3% to 36% and now sits behind Labor 46% to 54% in two-party-preferred terms.

The result represents a 4.4% swing to Labor since the 2016 election, which would lead to the government losing up to 20 seats if replicated in a general election, but is the first positive movement towards the Coalition since Morrison took over.
The result is identical to the 54-46 two-party-preferred result recorded in the most recent Guardian Essential poll, which also showed Morrison leading Bill Shorten as preferred prime minister.
Morrison's first month has been spent attempting to contain the fallout from the spill, including allegations of bullying in the Liberal party, first by encouraging MPs Julia Banks and Ann Sudmalis not to quit at the next election, and then promising a new complaints-handling procedure.
On the policy front, Morrison moved to permanently junk the emissions reduction component of the national energy guarantee with no policy to replace it, agreed to set up a royal commission into aged care, and introduced a $4.6bn package for Catholic and independent schools with no extra money for public schools.
The unity of the Liberal party has been tested by a series of leaks related to government policy before Malcolm Turnbull was ousted and a call from the former prime minister for the home affairs minister Peter Dutton to be referred to the high court to test his eligibility over his childcare interests.
Throughout that time Morrison has attempted to reconnect with the Australian public, emphasising his personal faith and party unity as the way forward for the government.
In the Newspoll Labor's primary vote fell from 42% to 39%, followed by the Coalition (36%), Greens (10%) and other/independents, up a point to 9%.
[highlight]On personal measures, Morrison leads Bill Shorten as preferred prime minister by 45% (up three points) to 32% (down four).[/highlight]
Shorten's approval rating was down five points to 32% and his disapproval ticked up by three points to 54%. Approval for Morrison was up three points to 44% while disapproval was steady at 39%.
Announcing the schools package on Thursday, Morrison said that voters "grab for the sound and they turn it down" when they see politicians play political "games".
"They're turning it down on Labor," he said hopefully." They're turning it down on the Greens. They're turning it up on our government because our government is focused on what they're interested in."
https://www.theguardian.com/australia-news/2018/sep/24/labor-dips-in-latest-newspoll-as-scott-morrison-widens-lead-over-bill-shorten