Now Australia's HERO Peter Dutton is softening Victoria up for the change of govt to Lib by exposing the gross neglect of public responsibility of the imposter Vic Labor "Govt".

Gosh won't this inflame the mad as cut snakes Extremist Greenies' HATRED for Dutto.
Peter Dutton on Victoria's crime wave
AMM  26/09/2018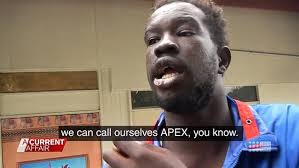 Almost every time Home Affairs Minister Peter Dutton cancels a scumbag's visa that bastard of an Administrative Appeals Tribunal grants an appeal and returns black savages to traumatise a troubled community. To be effective the AAT will have to be purged of leftwing ideologues. Labor won't allow that because the AAT was founded as a resort for unemployable lawyers.
Home Affairs Minister Peter Dutton has taken the extraordinary step of getting monthly reports on Victorian youth gang associates, which show 15 of the 58 foreign ­nationals identified by authorities have had their visas cancelled.
Youth gangs linked to visa cancellations
Source: News Corp
Federal Liberal backbencher Jason Wood also revealed yesterday that he was behind several of the referrals to Home Affairs and Victoria Police, after seeing cases reported in the media.
Heavily redacted copies of ­reports from the first six months of this year, obtained under Freedom of Information laws, show that between April 2016 and May 2018, Victoria Police referred 52 foreign nationals linked to youth gangs to the Department of Home Affairs.
"The department has identified another six foreign nationals linked to Victorian youth gangs through media reporting and confirmed their links with Victoria Police," the June 2018 report says.
Of the 58 foreign nationals identified, 15 have had visas ­cancelled and another 15 were under "active cancellation consideration".
Although redacted, the document lists Sudanese, New Zealand and Samoan as nationalities among the visa cancellations or those under consideration.
A Department of Home Affairs statement said visa cancellations had been an ­important tool to protect the ­community.
"The department regu­larly provides briefings to portfolio ministers on a broad range of ­issues, including character and cancellation matters," it said.
The new data comes as the federal Coalition continues to hammer Victoria's Labor govern­ment for going soft on crime and refusing to acknowledge the scale and nature of an African-Australian youth gang crisis.
But the low ratio of visa cancellations to referrals has prompted Victorian Police Minister Lisa Neville to accuse the federal government of failing in its execution of a "tough on crime" agenda.
Details of the offences committed by those with cancelled visas have also been included in the reports, including assaulting police, aggravated burglary, armed robbery, false imprisonment and possessing firearms.
Mr Wood said the reports highlighted the need for better co-ordination between state-based police and Home Affairs, noting that the majority of visa status checks were the result of inquiries from police and outside referrals, rather than automatic checks.
"For people convicted of serious, violent crimes, you'd think you want to run through to make sure they have a visa … and I have had to refer a number," he said.
"The only way they find out at the moment (if an offender is on a temporary visa) is if a keen detective out there says 'Hang on, we've got to check if this person is on a visa' and they have to be proactive."
The department redacted all names, but among the gang-linked individuals known to have had visas cancelled are South Sudanese national Isaac Gatkuoth, New Zealander Henry Robati and Ethiopian-born Bill Tang.
Gatkuoth, 20, has been among a small group fighting the cancellations after he was released from prison, where he served a 16-month sentence for pointing a shotgun at a man's head while committing a carjacking.
According to the monthly ­reports, at least five people were seeking a revocation of their visa cancellations or a review by the Administrative Appeals Tribunal at any given time this year.
Another 28 cases that have ­been referred to Home Affairs were not under "active" consideration, according to the June report.
Among those cases were Afghan, New Zealand, Sudanese and Iraqi nationals.
Leftist media saturates the news. Fight back. Send articles to your friends, politicians, local media, and facebook.
http://morningmail.org/peter-dutton-victorias-crime-wave/#more-90607